Affordable Slate Roofing Services
While we continue to provide the highest quality slate roofing services, we make certain that you do not cause any problems. Our economical slate roofing services in Melbourne take care of your budget and ensure that your roofing job is finished successfully and within your budget.
With South East, we offer you a diverse range of slate roofing solutions in Melbourne. From slate roofing repairs, slate roofing restoration, even a slate roofing installation, and finally any maintenance required for the dodgy state of your slate roof – we do it all!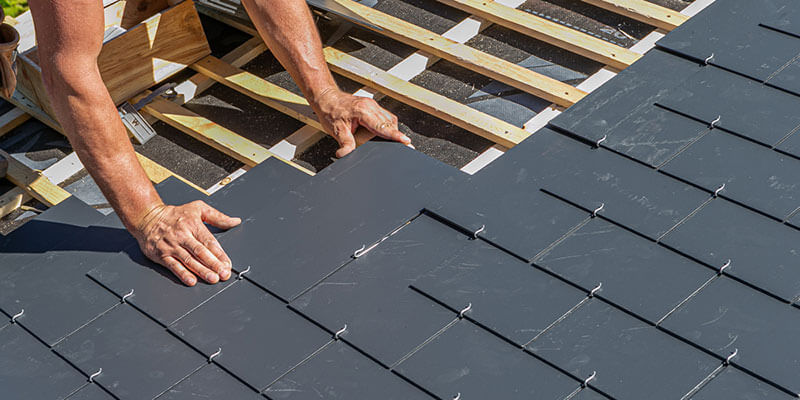 Slate roofs are both aesthetically and structurally strong. As a responsible property owner, you must be attentive towards preserving your beautiful slate roof and maintain the integrity of your roofing system. At South East, we are a leading roofing company offering a wide range of slate roof solutions. Having 30+ years of experience in the roofing industry & a highly Google reviewed roofing Company in Melbourne, Australia.
Our high-quality slate roof Melbourne services are trusted by residential and commercial clients. We are a one-stop shop for all your roofing needs including new slate roof installation, slate roof repairs, slate roof restoration, repair, and maintenance. Along with end-to-end slate roofing solutions, we also work on the installation of box gutters, valley irons, and ridge capping, mitre hip finishes, decorative slate works, and lichen and moss removal.
A Slate is basically a rock, obtained from a sedimentary rock composed of volcanic ash or clay through low-grade metamorphism. Therefore, this roofing material is millions of years old and is unbelievably durable. Another benefit of slate roofing is its ability to increase the resale value of your property due to its natural aesthetics and resilience. Slate roofs are recognized as fashionable roofing material – enhancing the architectural style of your house with its natural ability to be fire and mold-resistant as well.
How much does it Cost to Replace a Slate Roof in Melbourne?
While frequent inspections with prompt care can extend the life of a slate roof marginally. However, even the most carefully maintained roof will eventually need replacement. One of the most revealing signs for a slate roof replacement is when 20 to roughly 30% of the slates on a roof need repair. In this instance, it can often be more prudent to simply replace the roof.
Why choose Southeast Roof Repairs for Slate Roofing Melbourne?
Our team of experienced roofers has worked on a wide range of slate roofing projects and delivered successful results. We are dedicated to offering long-lasting and reliable roofing solutions that are aimed at creating incredible slate roofing masterpieces.
With Southeast, you can book online and get $100 off your bill while employing Melbourne's most trusted roofing experts in over 30 years.