We guarantee that we can detect and repair any leak
As a family-owned business, we pride ourselves on offering our clients an exceptional level of customer service. High-quality craftsmanship is of paramount importance, and we pay great attention to detail at all times. We believe in thorough preparation, quality application, and also the use of premium products, and it's this belief that ensures we complete each and every job to a high standard. Our services include commercial and residential painting, roof restorations and leak repairs, heat reflective roof coatings, and liquid rubber coatings to reduce leaks.
Southeast roof repairs is a specialist in repairing and rectifying leaky roofs with over 30 year's experience and know-how. Fast and accurate leak detection is the key to solving your roof problems and our team is qualified professional roof practitioners. Southeast roof repairs is not a restoration company that simply re-colors your roof and sprays over the cracks.
At Southeast roof repairs we aim to get to the root of your leakage problem as quickly and painlessly as possible. Our only aim is to ensure you get quality outcomes that fix the problems long term. With Southeast roof repairs you won't get flashy feet on the ground salesman – the man that does the quote is a supervisor on the job, so you have peace of mind knowing that your roof is being totally cared for at every stage. All work carries a 10-year warranty.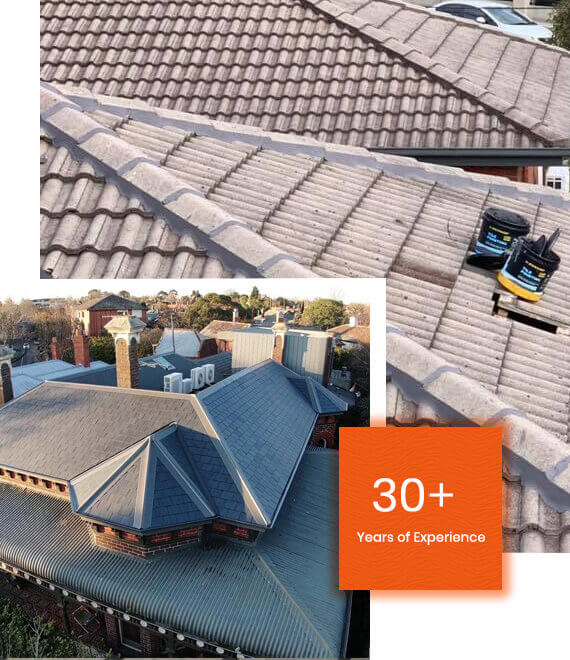 We guarantee that we can detect and repair any leak
While we continue to deliver the best quality roofing services, we ensure that you do not burn a hole in your pocket. Our affordable roofing services in Melbourne take care of your budget and ensure that you have a successful roofing project completed within your set budget.
Southeast Roof Repairs provides a comprehensive range of roofing services including roof repairs, restoration, painting, guttering, slate roofing, and more.
Having 30+ years of experience in the roofing industry & a highly Google reviewed Roofing Company.
If you want to learn more about your neighborhood roofing company, South East Roof Repair, please call 03 9296 2052 or fill out our online request form.