Roof Restoration or Roof Replacement
One of the most difficult choices to make when taking care of your roof is whether to pick roof restoration or completely replace it. There are several factors to consider including the cost of the project, the extent of damage, and the time it will need to restore or replace the roof as well as the arrangements you will have to make in case the roofing project demands you to vacate your property.
If the damage is little, it is always better to choose repairing the roof. However, some other factors of concern here are the material to be used and cost. Again, if the roof is leaking profusely or there is significant damage because a tree fell on your roof, you know what to choose- roof replacement.
Whether it is roof restoration you choose or go ahead with a replacement, in both ways, you must know that the decision should be taken as soon as possible to save yourselves from further damage.
In this blog, we have explained Roof restoration and Roof replacement in great details for you to have a better understanding and informed decision making.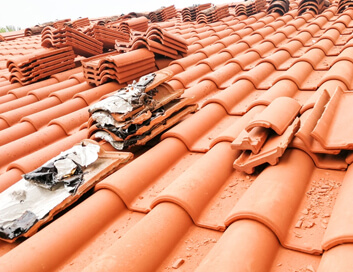 What is Roof Restoration?
Roof restoration is a set of processes aimed at restoring the roofs to the pre-damage condition. The professional roof restoration service providers would perform a set of tasks including:
Depending upon the type of roof, the roofer would choose the right approach and repair the damage.
What is Roof Replacement?
Roof Replacement, as the name suggests is a process of replacing the existing roof with a new one. You can choose a roof type and get a new roof installed at your property. Roof replacement is recommended when the roof of the house is damaged beyond repairs.
If you choose to replace your roof, it is important to make the right roof material decision. The choices for roof material are plenty. Some of the most popular roofing material are:
Also known as Colorbond, this type of roofing is very durable. You can paint it 'n' number of times and enjoy new looks. The roof is expected to live for more than 25 years.
There are many choices in the Tiled roofing category. You can choose from terracotta, concrete or slate. Out of these options, concrete tiles are the most durable ones.
In terms of costing, concrete tiles roofing is the most cost-effective option. However, steel roofing or metal roofing is more affordable as it requires less maintenance. You must get a roofing quote from an expert roofing company.
Whatever decision you make, do not forget to take expert advice. The professional roofer will guide you about the condition of the roof and recommend the right course of action. Also, only a professional roofing company can help you efficiently restore or replace the roof.
Slate is a kind of rock formed by low-grade metamorphism of a sedimentary rock containing volcanic ash or clay. As a result, this slate roofing material has been around for millions of years and is extremely resilient.
Slate Roofing also has the capacity to improve the market value of your home owing to its natural beauty and durability. Slate roofs are a stylish roofing material that complements the architectural style of your home while also being naturally fire and mold-resistant.