Roof restoration and repair has always been useful to improve the stability of the house. Before we venture into the key aspects of the concept, it is imperative to know about the significance of roof stability and the key maintenance aspects. Most roofs have a lifespan of over 25 years. This duration has been calculated based on the type of metal, installation technique and even the general weather condition. However, it might not account for the extreme climatic changes as well as the general maintenance issues. People are often conscious about roof care for the first few years. However, they become lethargic post it.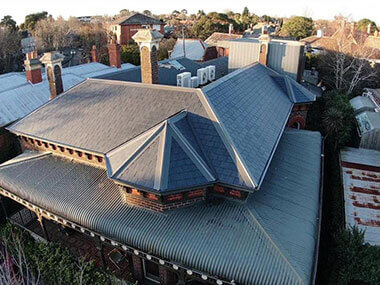 Ironically, roofs need additional care at this point. Most structures would not cause much issues initially. Over time, due to consistent exposure to heat, wind, water and dust, the roof will begin to falter. The issues might not even be evident initially. However, over time, they will begin to cause major problems.
An issue in the roof would often have a direct impact on the stability of the roof. Though it might start with a missing shingle or a small leak, it can gradually escalate into a bigger problem. It is imperative to take appropriate action at the earliest. There is a strong possibility that problems might arise even in the best laid roof. However, the good news is that it can be rectified with the right roof restoration and repair procedures. We have provided some insight on how people can protect their homes.
Clean your roof regularly
Specialists state that one of the key causes of roof damage is collection of dirt and debris. The roof is consistently exposed to dust and other external elements. When cleaned regularly, it can be easily washed. However, they might interact with other elements and form a thick layer if not cleaned periodically. This will gradually corrode the structure. Roof restoration will replace the damaged items so that the consumers can minimise damage.
Hire a roofer for periodic maintenance
Though people might clean the roof and check for faults, it might not be adequate. The professionals can identify problems even when it is hidden. It is pivotal to seek expert assistance annually so that they can inspect the roof and take immediate action. This will help to prevent long-term problems.
Know the signs of roof repair
Consumers can familiarise themselves with the different signs of roof repair. This would help them to seek professional assistance. Most problems tend to escalate due to ignorance. Roof restoration and repair can be avoided by taking immediate action.
Understand the roof restoration and repair techniques
Leading roofing companies such as South East Roof Repairs will help the consumers understand about the different aspect of roof repair techniques. They will completely analyse the issue and then seek effective solutions. Consumers can also ask about their questions on the subject before they make a decision.
Know the budget for Roof Restorations
Roof restoration and repair is not as expensive as the replacement. However, it is imperative to know about the cost and the insurance coverage. This will help the consumers to make a well-informed decision.
These information will help consumers to make the right decision regarding roof restoration. Sometimes, the issue might not be visible. People tend to correlate roof repair with leak or visible crack. However, the roof is composed of various intricate elements. A fair portion of them might not be visible to the individual. Some areas of the roof are more vulnerable and prone to damage. This would mean that consumers must be aware of them when they clean the roof. It is imperative to seek assistance from a reliable roofer such as South East Roof Repairs. They will evaluate the situation and determine if roof restoration and reapir is necessary.