Roof Restoration in Melbourne is an expensive and complex undertaking. However, it is imperative to restore the original condition of the roof. This is a familiar feeling with any repair or renovation work. When people are forced to handle specific projects, they might feel confused about various aspects. Therefore, it is imperative to approach them systematically. When people take on roofing and restoration projects, they might have multiple queries. This is quite natural as they do not have a technical understanding of the concept.
A fair percentage of homeowners have limited access to the roofs. This means they might not be aware of the issues in the structure. Therefore, it might be too late when people begin to notice the signs of damage. This is the primary reason companies insist that people should be aware of the symptoms of roof repair. This will help them to take the necessary action at the earliest. However, there have been some controversies on this subject.
Do people take immediate action for Roof Repairs?
Experts have always wondered how people react during these times. Any issue can be pretty stressful for homeowners. However, it is critical to understand if they get used to it. Although people might not be worried about it initially, they will begin to comprehend it better. Roofing and guttering issues do not escalate overnight.
The structure will gradually deteriorate and ultimately become damaged. However, it is challenging to predict the exact rate of damage. This can vary based on numerous factors, including roof type, age, and external conditions. When the roof repairs attains a certain point, people will have minimal choices to address them. They will have to opt for Roof Restoration or replacement.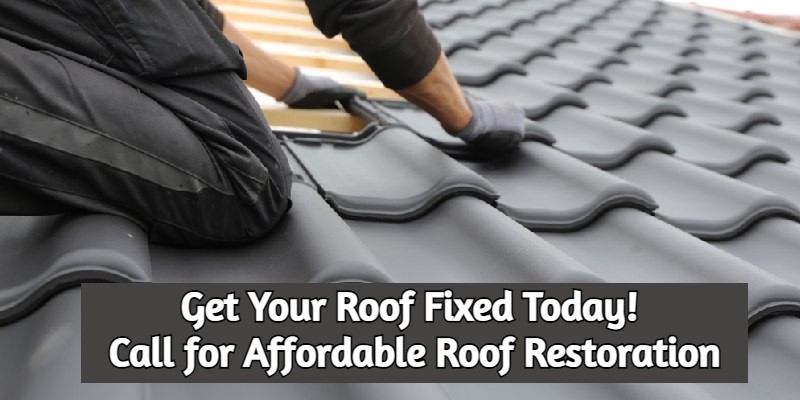 What are the factors that impact Roof Restoration Melbourne?
However, people might not restore a roof without the relevant facts. Therefore, it is imperative to look for the necessary information to help them make the right decision. Homeowners are more likely to consider various elements pertaining to this choice. This would include the credentials of the service provider, expected lifespan, benefits and, of course, the cost. Studies have shown that the cost of a product or service directly affects the decision-making process. People will not make this choice quickly until it is a real emergency. Here are some ways how people can get affordable Roof Restoration services.
Do a periodic evaluation
Homeowners should always do a periodic evaluation of the roof and gutter. This will help them to identify the faults and take necessary action. People can also ask roofing contractors to evaluate on their behalf.
Know about Roof Restoration Melbourne
Roof Restoration is the process of restoring the functional and visual appeal of the roof. Therefore, people should know these aspects to understand the core deliverables.
Enquire about the different techniques
Knowing the various aspects of a restoration project is not a bad idea. People might have to learn in-depth about these techniques when choosing. This will help them to select the ideal project. Knowing the expected outcomes is imperative to make the right decision.
Compare prices
Customers can always compare estimations to understand which one gives the best value. Though this might seem like a hassle, it will help in the long run.
These elements will help homeowners to get the best deal for Roof Restoration Melbourne projects. It is imperative to decide in this regard. This is because when people ignore or oversee the signs of damage, it can lead to complete roof and gutter repairs. It might not be viable to restore a roof under these circumstances. People will have to look for replacement options which can cause a massive dent in their savings.